Valorant is turning out to be one of the most popular FPS games in the recent era. With Riot supporting Valorant Esports with full force, a lot of well-known CSGO players are making a switch to Valorant. Many people love the Valorant ranks system, including us. It can get very confusing because no one actually knows the algorithm for the rank system in Valorant.
Everyone wants to be a Radiant agent these days in Valorant. However, most people do not actually know how many ranks are there in Valorant and how you can rank up, so here is a guide for you explaining the Valorant Ranks.
Valorant Ranks & Tiers – 2022
There are a total number of 8 ranks in Valorant, starting from Iron to Radiant. They are as follows.
Radiant
Immortal
Diamond
Platinum
Gold
Silver
Bronze
Iron
The Iron rank is the lowest placement that you achieve, while Radiant is the highest.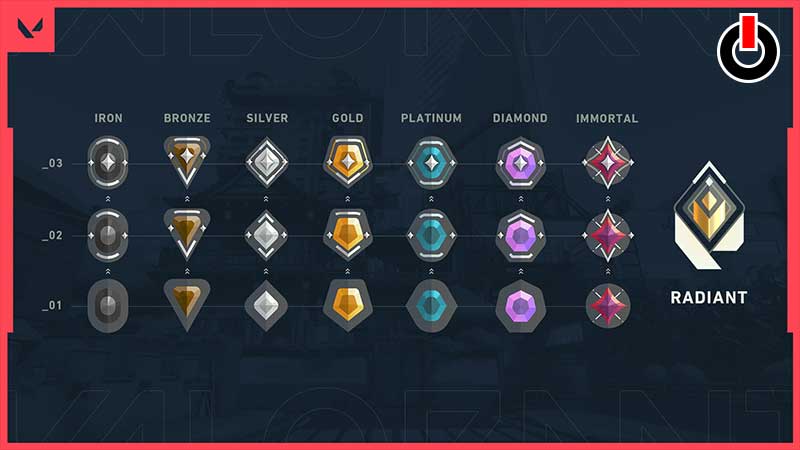 How Do I Get My Valorant Ranks in 2022?
For earning a rank or level in Valorant, you will firstly need to ensure that you complete playing a total of ten unranked matches. Once you finish winning your ten unranked games successfully, you are now allowed to enter and compete in the competitive section. After playing a total of five competitive placement games, the algorithm by Riot games will evaluate your performance and grant you a rank accordingly. If you are a beginner to tactical FPS games, you will probably rank up in the ranges of Iron-1, Iron-2, or Iron-3, with Iron-1 being the lowest and Iron-3 being the highest.
Similarly, if you have some experience with tactical FPS shooters and are an intermediate-level player, you could accomplish the ranks of Bronze, Silver, or Gold. The chronological order of these ranks is similar to the ones assigned to Iron.
An expert player could achieve the ranks of a Platinum or Diamond with just five competitive placements games. Once the Diamond rank is achieved, the next step is to move towards the Immortal rank. These ranks also follow the same chronological order of these ranks assigned to the previous levels. The ultimate ranking that you can accomplish in Valorant is Radiant. Most pro-competitive players seek to achieve the following badge. The top 500 players from every region get the Radiant rank.
How to Level Up Valorant Ranks?
For levelling up, the final concepts you need to know are the topics of Match Making Rating (MMR) and Rank Rating (RR). The MMR system uses your placement games and searches for a group of suitable opponents based on skill levels. The RR method assigns a perfect rating based on your performance in the particular match. Every time you play a competitive match, you will get a certain number of points for that match. Collecting 100 points will put you onto the next rank level. For example, to go from Gold 1 to Gold 2 you need to play enough matches to collect 100 RR points.
What is the Act Rank Triangle in Valorant?
The Act Rank Triangle in Valorant depicts the current rank of each game you play. For each game you play, regardless of win or loss, you are assigned the current rank badge. As you progress and climb further in the Valorant ranking scene, the top position of the triangle is replaced with the higher rank while the lower rank starts to fall below in the triangle. At the end of the Act, you will get a badge on your profile of the highest rank game you have played. Acts are also seasons in Valorant that last 2 months.
This was everything about the Valorant Ranks. If you want to know how to convert your CSGO Sensitivity settings to Valorant, use this guide.